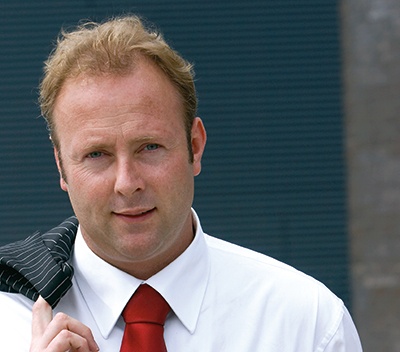 Recently we spoke to Paul Rooimans, Managing Director of Mycronic United Kingdom and Benelux.
Mycronic is a Swedish high-tech company, which has supplied the electronics industry with world-leading laser mask writers and surface mount technology (SMT) assembly solutions for more than 30 years.
In this blog post, Paul talks about how business today is all about ecosystems. He explains why Mycronic has stopped selling machines to instead focus on comprehensive solutions that increase efficiency, productivity and profitability for their customers.
Change is the norm across all industries today and the best electronics manufacturers are learning to adapt both intelligently and quickly. So if the machine is now history, what's next for electronics manufacturers?
How has the last twelve months been for you and how do you see the future?
The last twelve months have been really good for us! After a weak 2013, we saw an excellent recovery in 2014 and we broke records in the UK with all time high in 2015. The market has been weaker in Q1 2016 but we are confidently expecting an upswing during Q2 and the rest of the year. Activity among our clients is still high and there is definitely no decline in the utilisation of their assembly lines.
What new product trends are there in the market, and what do you think are the key/core technologies that will enable these?
Simply selling machines is now history - business today is all about ecosystems. In all markets, whether we consider them to be mature or immature, developed or undeveloped, business owners are looking for ecosystems that can communicate vertically and horizontally, and that have significant on-board intelligence. What all really want is to maximise their bottom line. All are looking for efficiency enhancements that will deliver more profitability and allow them to cope more effectively with eroding margins and price pressure.
The Mycronic philosophy has always been to consider everything from a proactive perspective. We believe that the machine should automatically take care of itself and, therefore, that there should be no need for monitoring and reaction!
What are customers' demands for the near future and how are you going to respond to them?
We did a lot of research and what this uncovered may - and certainly should - stagger you. In 80 per cent of the companies we surveyed, the SMT machines were standing idle for 75 per cent of their potential running time. There were many reasons for this huge amount of downtime including, of course, stoppages for product changeovers.
This revelation provokes an interesting question. When a customer says that they need a new machine capable of placing, say, 40,000 cph in a high-mix environment, is that really what they want? Isn't it much more likely that their real requirement is for a more efficient SMT line that will allow them not only to reach their production targets but also to make more profit? To paraphrase our latest advertising, the top speed of a high-performance car is completely irrelevant when it's stuck in a traffic jam.
That is why we've stopped selling machines - yes, you heard that right - and decided to concentrate on supplying comprehensive solutions that are designed to eliminate production "traffic jams". Every element of our solutions has been developed to boost our customers' productivity and profitability - in short, to send money straight to their bottom line. Surely that's what every business really wants?
So what do our solutions offer? Great machines, of course, that are renowned for their fast changeovers, which is a key point in today's high-mix world. But that's by no means all. Our solutions also include access to our business expertise and our support services.
We'll apply our expertise first of all to analyse exactly what our customers' businesses really need, and then we'll tailor our services to suit. We'll look beyond the machine, at the planning and engineering operations and at every other relevant area of the business. We'll support the customers in the integration of our machines with their CIM systems, if they have one and, if they don't, we will, if they wish, help them to implement one.
Once their machines are up and running, we make sure our customers get the most from them with our training services, our 24/365 on-line knowledge base, our remote monitoring and diagnostic services, and regular on-site audits to help further optimise performance and profitability. In short, we'll do everything within our power to help our customers to operate efficiently and make more money. I hope you'll agree that this is a rather better business option than buying just a machine, however impressive its data sheet might at first appear.
What sort of product developments can we expect to see from you in the future?
At the last Productronica exhibition we noticed that several vendors were introducing fast NPI interfaces for the first time, and were starting to call themselves Industry 4.0 compliant. To me, this is a rather bizarre and reductive approach to the Industry 4.0 concept!
We have always pushed the limits of flexibility in relation to batch size one. We started this in the mid 90s, and we've always had a strong focus on software and on our mission, which is to enable our clients to generate maximum profitability from their SMT business with "batch size one" - in other words, any volume, any mix. So when we look at the initiatives relating to Industry 4.0 we have the feeling that there's not much new under the sun.
Our machines are already fully software driven and configured, which means they have long lifetimes because they can be easily upgraded by installing new software. As I have already said, our philosophy has always been to consider everything from a proactive perspective. And we shall continue to introduce more proactive products and solutions. Our 360º Industry Benchmark is one of such proactive solutions that can really make a difference:
Stock reduction of more than 50 per cent
WIP reduction from 24 days to 4 days
NPI productivity tripled
Bottom line placements increased 200 per cent
Bottom line profits doubled
But I'm not, of course, going to tell you everything! I do strongly recommend that potential customers should attend a workshop in our brand new Experience Centre in Poole in Dorset in the UK to learn more.
I promise that we really CAN make a difference where many others can't, whatever they may claim. We invite potential customers to challenge us and let us open their eyes with our 360º Industry Benchmark so that we can release their full potential - potential that they may not even be aware of!
Where do you see your market moving to?
In all markets, as I've already said, business owners are looking for ecosystems that can communicate vertically and horizontally, and that have significant on-board intelligence. Our industry is making a big paradigm shift and, when it comes to SMT equipment, it is now putting value at the top of the list of its requirements, rather than simply looking for raw capacity and a low price tag.
For us, being able to help companies that typically have a bottom line of less than 5 per cent move forward is like a dream come true! That's why we've stopped selling machines and why we NOW sell value that enables our customers to become more profitable and to enhance their competitive edge so that, at last, they can start to compete successfully with low labour countries.