Complementing our PCB-level assembly services, JJS's box build assembly services are part of a comprehensive array of electro-mechanical assembly, cabinet assembly and full system integration services.
Our box build manufacturing expertise encompasses:
Cables
Harnesses
Backplanes
Sub-modules
Electro-pneumatic assembly
And higher level integration and assembly of high mix, high complexity products.
Box build assembly capabilities
Our customers take advantage of tailored, flexible, configure-to-order, system integration and test services. We have considerable expertise in setting up flexible "lean lines", in both our UK and Czech facilities.
These provide a total turnkey manufacturing environment for highly configurable, complex, "box build" products. They are typically two to 10 position, fast changeover, lines, enabling us to provide a responsive solution when demand is dynamic, but lead-times are short.
Our purchasing, logistics, inventory control and production engineering groups work together to deliver the highest levels of service consistently, in this most demanding aspect of the electronics manufacturing services business. Our track record of excellence when it comes to on-time/in full (OTIF) delivery speaks for itself.
Both our manufacturing facilities can offer you lean process design, leading to dedicated production lines or flexible cell manufacturing, incorporating assembly, test and packing with full traceability. This is supported by extensive engineering expertise in both electrical and mechanical assembly. And, as for all production processes, dedicated production fixtures can be designed and made as required.
The ideal box build assembly solution
JJS Manufacturing can provide the right solution for your needs. Whether you need a simple product assembly - involving integrating a PCB into an enclosure - or a front panel assembly equipped with a display, full harness, connectors, switches, and fuses, etc.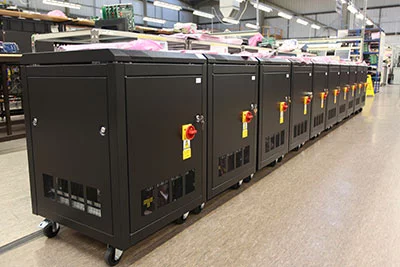 Also, going beyond the remit of a typical box build, JJS's engineering and manufacturing teams are experienced in the production of complex electro-mechanical "mechatronics" products. These are better described as machines rather than products. They require bespoke configuration; 19" rack sub-systems need to be assembled, and custom hard-wired cabinet assemblies delivered.
In addition to producing and integrating custom PCB assemblies, we can also procure all necessary parts. These include pneumatics, PLCs, switches, timers, and encoders, etc. - plus plastics, custom metalwork, and machined products.
From JJS, you receive a total manufacturing solution. We take you from sourcing, purchasing and supply chain management, through new product introductions and prototype production. And we establish agile assembly, configuration and test processes, to ensure that we maintain our world class performance levels for quality and OTIF delivery.