These days, it is not only medical devices LEDs or MOEMS which require particle-free environments. Products from the optic, measuring or instrumentation sectors have also become increasingly small, complex, and sensitive. The performance of these products can be compromised if exposed to dust or humidity.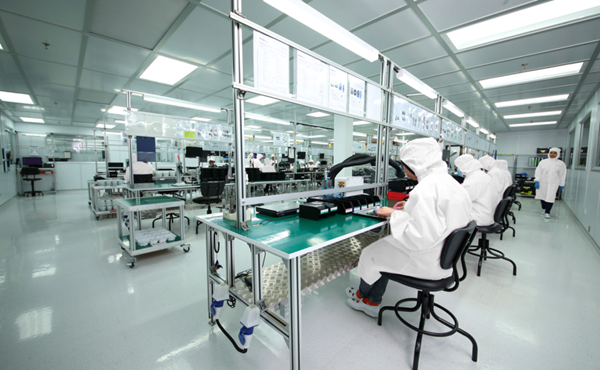 A view of the state of the art cleanroom with highly skilled operators at ESCATEC Mechatronics
In response to this growing demand, ESCATEC recently added a new cleanroom in Johor Bahru. Currently measuring 300 m², with space for expansion, ESCATEC offers customers a class 8 room with ISO 14644-1 standards. The room ensures a dust free, clean environment for assembly of products incorporating optical or other dust sensitive technologies.
The cleanroom includes a changing room with a fully equipped air shower, final assembly lines, a dedicated special control room for IP68 products and an offline packing room. The dedicated control room is temperature and humidity controlled. The offline packing room ensures any dust generated from the packaging boxes will not contaminate the clean room environment.
Our customers trust us. We understand their product needs better than they know themselves. We know them so well that we suggest optimisations well before they realise and suggest these themselves." Tam Tong Hor, Product & Process section manager in Johor Bahru