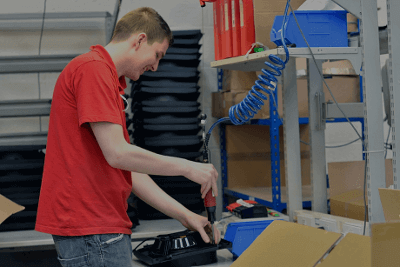 Innovations within technology and automation mean that UK manufacturing is experiencing an exciting period of rapid change, with much to offer school leavers who have a passion and aptitude for science, technology and engineering.
Deciding on the right career path within manufacturing however, and the best route to take to make those dreams a reality, can sometimes seem a daunting prospect for young people considering their options.
As an Electro-Mechanical Engineering Technician at JJS, I entered the manufacturing industry via an apprenticeship scheme which offered huge advantages in terms of combining paid on-the-job training with the opportunity to further my education.
I joined the three-year Advanced Apprenticeship Scheme in September 2011 at the age of 16. Although I was keen on science, maths and technology at school, I knew I didn't want to go down the A levels or university route. So my Dad suggested I take a look at an apprenticeship as an option. Then a teacher at school handed me a leaflet for an Open Day at a local electronics manufacturer.
As it turned out, the time frame from making my initial enquiry to being offered a place was surprisingly quick. Within the space of two months I went from attending the Open Day (where I had the opportunity to walk around the factory and register my interest in a position,) to being contacted for a first interview, taking part in the assessment process and starting my first day on the job.
Apprenticeships typically combine the opportunity for on-the-job training with classroom learning, but exactly what you learn depends on the role you're training for.
In my case, the flexible nature of the scheme meant I was able to combine paid employment with an approved study programme (comprising one day of college education each week) during which I completed my HNC in Electrical and Electronic Engineering
On the job training
As an apprentice I worked alongside experienced staff and engineers and had the opportunity to take part in the development of a wide variety of new products and technologies. I was also able to work across all parts of the manufacturing operation, from production right through to test.
There's no doubt you need a level of maturity to handle the demands of an apprenticeship scheme as you're leaving the normal school routine and entering the working world. You'll also find you're responsible for your own learning, so you need a lot of self-motivation.
My advice? Don't be afraid to ask for help when you need it. You really need to seek out opportunities rather than waiting for them to be handed to you on a plate.
For me that meant asking to be able to shadow a wireman with more than 20 years' work experience in order to gain a deeper practical understanding of the role.
Career advancement
Following the conclusion of the three year apprenticeship scheme, I was offered a position as a full-time member of the electro-mechanical team, then from there moved into engineering. In my current role no two days are the same, with the job requiring an element of customer facing and a fair amount of time spent offsite supporting products once they've been delivered and dealing with updates.
In 2017 for example, I spent much of the first half of the year travelling to and from the company's offshore facility in the Czech Republic. I also had to travel to France to liaise with a customer regarding a design review.
There are so many benefits of the apprenticeship scheme, but I'm especially mindful of the degree of financial stability that it has offered me. Unlike many of my peers, who took other educational routes after leaving school, I've managed to gain invaluable work experience and further my education whilst remaining debt-free through the entire process. I'm also currently studying towards an HND, with support from my employers.
So what advice can I offer if you, or someone you know, are considering applying for an apprenticeship scheme within the manufacturing industry?
Definitely go and see for yourself. Get along to an open day where you can observe the business in action and speak to other apprentices about their experiences. Getting the answers to questions, directly from those people who are living and breathing the industry, will be invaluable in helping to focus your plans.