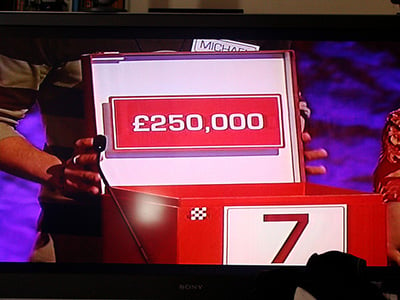 Often promising the world - or a load of cash, a car or a speedboat - our TV screens on Saturday nights are awash with game shows. As the drama unfolds, the husband and wife duo (or two friends from down the pub) are forced into making tough decisions. Should they gamble away the electrical appliances they've accumulated so far on a mystery star prize, or simply walk away?
Given just 15 seconds to decide, with an entire audience shouting to gamble, many succumb to the pressure and do just that. Having made their decision their body language often suggests that at least one of the pair would have been happy to take the new expresso machine and run, but of course it's too late for that now… And, after failing to answer what you and I thought was such a simple question, a groan from the audience can be heard followed by those bittersweet words from the game show host: "let's see what you could have won".
Now, you may see outsourcing your manufacturing to an Electronics Manufacturing Services (EMS) provider as a bit of a gamble. If you get forced into making a rush decision and select the wrong EMS partner, you stand to lose much more than a kettle and toaster. Sometimes the thought of taking such a risk is enough to put people off outsourcing completely. However before you walk away, let's take a look at some of the 'prizes' on offer, should you decide to change your mind.
Keep ahead of the competition
Without the distraction of manufacturing you could invest further in your product design and development team. Fresh talent, along with the skills they bring supported by new equipment could be a great way for you to stay ahead of your competition. Perhaps you already have a new product design in the waiting and want to see it come alive in the market place. Or maybe it's time to tell your customers about the exciting new features coming soon to your existing product range? Outsourcing your electronics manufacturing to an EMS company allows you to focus on areas like this that matter the most.
Take control of the market
Have you ever lost business or struggled to maintain market share because your in-house facility doesn't have the capacity in assembly and test to keep up with demand? Maybe you want to investigate a new market but haven't had the time to put the resources in place to research its viability. Or perhaps you simply need to focus more on your existing customers by increasing the service levels to them so they keep coming back? By outsourcing your manufacturing to a Contract Electronics Manufacturer (CEM) capacity constraints are lifted allowing you to concentrate on growing your business.
Make the next big step
Is now the time to consider a merger or acquisition and build on the strength of your existing business? Perhaps you already have a complimentary company in mind but have failed to turn your thoughts into reality? Free from the time pressures of managing your manufacturing, you can properly evaluate if this strategy is right for you in helping to realise the needs of your shareholders.
Free up your cash
There are significant savings associated with outsourcing to an EMS company. Along with increases in efficiency, reduced lead-times and reductions in WIP and overall stock, there's also the fall in overheads to enjoy. There are many other hidden costs too which you'll get to see in the future. When walking around your factory try and visualise what it would look like without all of the capital equipment, staff and other expenditure associated with the day-today running of a manufacturing facility. How different does it look? Would a smaller, more cost effective premises be more appropriate if you didn't have to worry out production?
So, now comes the million dollar question: are you ready to gamble your in-house manufacturing with a sub-contract partner? In truth, the risks involved with outsourcing are very low. Providing you are clear on your objectives and thoroughly research potential partners, I'm confident you'll find someone you can trust to take over your manufacturing operations. Of course, if you do need a little more help or support at any time, you could always phone a friend.
Image by Ben Sutherland