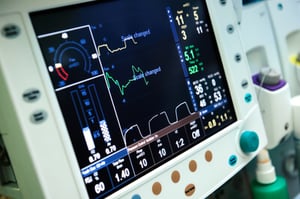 As the global coronavirus pandemic continues to escalate with alarming intensity, so too are the concerns within the UK about the limited supplies of vital medical respiratory equipment used to treat the most vulnerable.
With just 5000 adult ventilators and 900 children's ventilators currently available in critical care facilities throughout the UK, the race is on to produce more of these life-saving devices in substantial quantities and as rapidly as possible.
While a typical medical device company might normally expect to manufacture around 750 new ventilators over the course of a year, Prime Minister Boris Johnson has called for manufacturers to rise to the challenge of producing more than 20,000 new ventilators within a timeframe of just two weeks.
The government has also been rallying engineering firms from all sectors of the industry, irrespective of their specialisation, asking them to switch their efforts to the production and assembly of essential medical equipment.
Tackling a national crisis
As of March 16th, more than 60 UK manufacturers had reportedly already been sent a blueprint detailing specifications for the making up of vast quantities of new ventilators "at speed."
Bringing any new product to market is a sizeable undertaking even under the best of conditions - but when the pressure is on to produce an unfamiliar, specialist medical device from scratch, within a minimal time-frame and with access to limited resources, the challenge is even more substantial.
Mobilising the supply chain will be crucial - and with restrictions on international freight movement there is likely to be an inevitable impact on the availability of imports of crucial electronic equipment and components.
With this issue in mind, one of the key stipulations laid out in the government's initial specification document is that the new ventilation devices be manufactured using "materials and parts that are readily available in the UK supply chain."
The practical challenges of switching production
Manufacturers have also raised concerns about the need to have access to a licensed design before the production process can even begin. The manufacture of medical devices is subject to regulatory approval, with licenses often taking weeks or months to secure depending on the complexity and risk associated with the product.
Those already operating in the tightly regulated medical devices industry have also cast doubt on the feasibility of non-specialist manufacturers being able to switch production.
Quality control will be another critical issue, they say, and especially so if there is suddenly a large number of companies turning their hand to making a new product for the very first time.
Whilst manufacturers will of course bring their considerable skills and expertise to the table, it will be crucial to manage every step - from design and manufacture to operation and test.
Decisive action needed
Producing vast quantities of safety-critical products within a strict time frame is a massive undertaking, say medical device industry experts.
Even under normal conditions, a new device can take anything from two to three years from development to launch, says Craig Thompson, the head of products at Oxfordshire manufacturer Penlon.
Given the unprecedented nature of the current Covid-19 health crisis however, the Medicines and Healthcare Products Regulatory Agency (MHRA) has already announced that it is prepared to act swiftly in the interests of public health and safety to allow the manufacture of new ventilators to proceed without formal regulatory approval.
The mood within the wider manufacturing industry is also showing signs of positivity, with the CEO of manufacturers organisation Make UK, Stephen Phipson, publicly voicing his support for the government's latest move.
"We have a very strong contract manufacturing sector in the UK which is used to being given other people's patents and designs and being tasked to produce them," he says.
"It may need government action to smooth this process very quickly but it can be done."