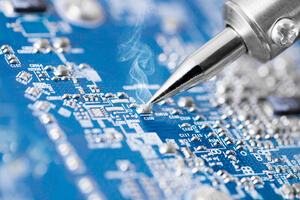 The rise in offshore transport expenses, the continuing shift towards automation and the ever-growing customer expectation for shorter lead times are all having an inexorable impact on UK electronics manufacturers' attitudes towards supply chain risk.
When you add to this the disruption that the COVID-19 pandemic has caused to the global flow of goods and services, it's little surprise that many UK electronics manufacturers are now considering reshoring their production processes.
While the pressures of the past twelve months have left an indelible mark, the shift towards reshoring is a concept that has been steadily gaining momentum for at least the last decade.
According to the findings from an industry report from Warwick University, changes were already well underway back in 2017, when 65% of manufacturers reported that they had either considered, or in many cases already acted upon, some form of reshoring activity.
Around 13% of those surveyed said that they had already taken the decision to directly reshore by relocating their entire offshore capacity back to the UK, the study explained.
But for a much larger proportion of manufacturers (around 52%) there was also a clear trend towards a dual-supply strategy, with many companies opting to maintain some offshore production but focusing the majority of their efforts on increasing production capacity at home.
With any type of reshoring initiative of course, there comes both opportunity and risk, and for UK electronics manufacturers there is plenty to consider in deciding which path to take.
Reshoring - the opportunities
Reshoring is suited to smaller to mid-sized manufacturers who are better placed to handle the demands of producing multiple products.
It could offer an additional income stream for a manufacturer by providing the impetus to repurpose an existing factory setup.
There may be the opportunity to improve the quality of your products, and your brand, by focusing on value and on increasing your responsiveness to customer demands.
There is the possibility to enhance global competitiveness by nurturing and investing in manufacturing innovation.
You can simplify the distribution process (and mitigate the risk of damage, loss or delays) by removing the need for expensive overseas shipping.
You'll have greater control of the production process which will enable you to source items more quickly, keep closer tabs on your supply chain and shorten lead times.
You are no longer at the mercy of overseas manufacturing plants in ensuring they create products that meet your standards.
Reshoring - the risks
One of the biggest challenges in manufacturing is finding workers with the proficiency to perform the job. Many of the workers operating in offshore factories will have spent years honing their technical expertise, so it will be important to ensure that your own labour force is sufficiently trained and skilled before you commit to reshoring.
You'll also want to be sure there is sufficient demand for your product to justify setting up new production facilities.
If you're starting from scratch then this will almost certainly involve building new factories, plants and machinery, not to mention setting up completely new supply chains.
Assuming that you do have existing sites up and running, it will also be important to ensure they are fit for purpose and that they are capable of handling the production volumes that you will require.
Crucially too, do the numbers add up? Is your UK factory going to be able to realistically compete on price with your offshore partners when it comes to the costs of labour and transport?
Pulling out of an offshore manufacturing agreement may well cause irreparable damage to the relationships with your existing offshoring companies.
If your reshoring strategy goes to plan then the cutting of those ties may not be an issue, but there may also be value in keeping the lines of communication open by adopting a dual-sourcing approach.
Expect the unexpected
If the last twelve months have taught electronics manufacturing anything, it is to be prepared for unexpected global risk events which can expose the industry to supply chain vulnerabilities.
With careful logistical planning and management, taking the decision to reshore your electronics manufacturing activities could open the door to exciting new opportunities.
But while reducing cost may be a primary incentive, it will also be important to de-risk your supply chain by maintaining diversity of supply, investing in facilities, skills and processes and being proactive when it comes to innovation and technology.