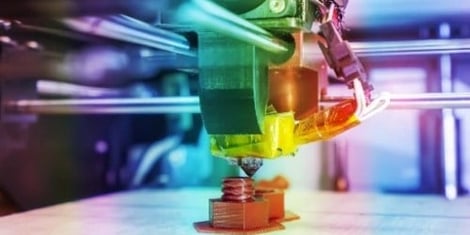 Additive manufacturing technologies, like 3D printing, have emerged as a valuable resource for manufacturers. And they are set to become increasingly important to the industry in the next few years.
Just last month, Ocado revealed it is now using 3D printing technology to build the pick-and-pack robots found at its fulfilment centres. The grocery delivery company's new 600 Series fulfilment robot is said to dramatically improve efficiency and reduce operating costs.
But what does this mean for traditional manufacturing methods, like injection moulding? Will 3D printing become the norm in the long term? Or will there still be a place for both approaches?
3D printing vs injection moulding; what's the difference?
Additive manufacturing and injection moulding have a lot in common. They are both manufacturing techniques for producing parts and components. But each process works very differently.
3D printing is an additive manufacturing technology. It manufactures objects by building them up layer by layer. It brings digital flexibility and efficiency to manufacturing operations, enabling the creation of lighter, stronger parts and systems.
It's ideally suited to complex parts as it can provide a more cost-effective option than traditional methods. And is typically considered the ideal option when looking to produce parts infrequently or in low volumes.
Injection moulding, on the other hand, is a traditional manufacturing process that uses a mould filled with molten material that cools and hardens to make parts and components. It's less flexible than 3D printing as the upfront costs associated with tooling mean it's not well suited for frequent design changes.
However, it has typically been considered more ideal for manufacturing low complex parts in large volumes with minimal wastage. Objects made through injection moulding are also often considered stronger, as they consist of a single poured layer, meaning no fissures or points of weakness.
New possibilities for additive manufacturing
Additive manufacturing has historically been used only for small, complex parts to help get products out to market fast or for creating production jigs and fixtures.
But Ocado's revelation has turned this approach on its head. Its newest bot features over 300 parts made with HP's MultiJet Fusion (MJF) 3D printing technology. That represents half of the total parts in the machine.
The decision to use 3D printing for such a significant proportion of a final product could be seen as a value engineering endeavour. The robot is five times lighter, significantly faster, and more cost-effective to manufacture than its predecessors. And the ripple effect across Ocado will be enormous.
The lighter machine will use less energy and reduce overall costs associated with Ocado's robot grids. As Kubi Sertoglu writes for 3D Printing Industry, "Since the 600 Series is so light and portable, it gives Ocado the opportunity to build ultra-light grids for the bots to traverse across". These grids can be built in just weeks and can be installed in a wide range of buildings.
Ocado CEO Tim Steiner says, "Because the 600 Series bots are highly energy-efficient and require a lot less power to achieve the same throughput from the same footprint, new sites will require less chill equipment, lowering energy consumption levels and overall construction costs.
The dramatic reduction in material used for our lighter grids not only makes site design easier, but it also allows us to install our new technology into simpler buildings, significantly reducing the timelines and costs associated with the construction of purpose-built facilities."
Ocado is no stranger to using innovative technology to automate its warehouses to gain a competitive advantage. Prior to the pandemic, it announced plans to use robots to handle all products it stocks.
And ultimately, by introducing 3D printing into the manufacturing of its pick-and-pack robots, Ocado is gearing up to meet its ambition to significantly reduce its delivery times for customers. The company has said it aims to deliver supermarket groceries (at supermarket prices) to shoppers in as little as two hours.
3D printing is more accessible than ever
3D printing is becoming more accessible, both in terms of cost and the knowledge required to operate the machinery.
And while it was initially considered suitable for low to mid-volume production, opportunities for high volume production with 3D printing are expected to emerge in the future.
In fact, the industrial 3D printing market as a whole is projected to grow from USD 2.1 billion in 2021 to USD 5.2 billion by 2026.
With time to market often a deciding factor in determining a company's success, mass production using 3D printing offers a distinct advantage as it can significantly reduce time to market by cutting lead times on parts.
Of course, another of the major benefits of 3D printing is the ability to customise products and parts fully for the end-user. And by allowing customers to dictate demand, companies are under less pressure to get their forecasts right - 3D printing ensures flexibility as they are able to print what they need.
Does this mean goodbye to traditional manufacturing methods?
In short, no.
Injection moulding is a great technology for products intended to sell in the millions, without an update to the design, for long periods of time. For mass production of identical objects, choosing injection moulding is a no brainer.
However, in a world where product optimisation can mean the difference between success and failure, especially for niche or speciality products, additive manufacturing is often considered the better option.
Conclusion
The benefits of using additive manufacturing are clear, from improved efficiency and speed to less waste and reduced costs. And Ocado's use of additive manufacturing - robots made of 50% 3D printed parts - presents an interesting use case that could become the norm in the future.
Ultimately, 3D printing and injection moulding are both excellent manufacturing processes. The most important thing is ensuring you're using the right methods for the right reasons. Your electronics manufacturing partner will be able to advise you on the best plan of action for your product.