If y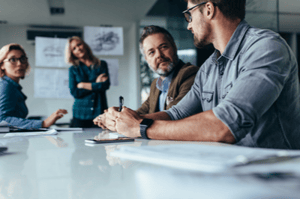 ou're an original electronics manufacturer (OEM) considering outsourcing part or all of your manufacturing operation, you may be thinking about reaching out to electronics manufacturing service (EMS) providers.
But how do you know when it's the right time to get in touch?
While we love speaking to prospective customers, we would argue that the right time to make contact is when you've established your company's strategic need for outsourcing and all stakeholders are on board with the decision.
Have you got buy-in at board level?
Getting buy-in at board level before you reach out to an EMS provider will give everyone involved confidence that this is a direction your company really wants to take.
The most common reasons OEMs choose to outsource are to focus on core activities, to overcome capacity constraints, and to improve cost control. Manufacturing can be a distraction and a financial drain and outsourcing may be the right strategy due to decreased total costs, improved efficiencies and the extra agility it offers.
So what are your strategic reasons for outsourcing? Have you communicated this to the board? And have they given you the go ahead? If so, it may be time to pick up the phone.
Are HR involved?
One of the most challenging elements to an outsourcing decision when manufacturing already in-house is the impact it can have on your existing staff. Any organisational change can cause uncertainty or concern, so it's a good idea to get HR involved early on when considering outsourcing.
How quickly can you re-deploy resources internally? What level of additional training or investment might you need to put in place? And how many staff are you going to need once the procurement, assembly, test and shipping responsibilities have been handed over successfully? These are internal conversations you need to be having long before you approach an EMS provider. Otherwise, you could find yourself in difficulty further down the line.
Do you have accurate information?
Transferring your electronics manufacturing to an EMS provider can be a complex process. There is a lot of data that needs to be collected and transferred, key to this is a Bill of Materials (BOM).
A good EMS provider will test you rigorously on your drawings, build packs and test procedures. And you will need the internal resource to collate, verify and respond to any specific questions the data you have may throw up. If your information isn't accurate, or worse still isn't documented, the whole process will become much harder than it should be.
And then there's forecast data. An EMS provider will need to understand how many products you plan to sell during the year so that they can cost your project accordingly. So, expect them to ask you for weekly/monthly batch sizes and estimated annual figures. This information will enable them to propose an appropriate supply chain model to enable to you maximise the benefits of outsourcing. Whilst there may be a temptation to 'inflate' these figures to secure a lower unit price we would advise against it. It's always better to be open and honest with the supplier up front so they can work with you as your business grows, even if that means starting off small.
Have you considered the impact on your customers and suppliers?
Existing customer and supplier relationships can also be affected by your decision to outsource. Your customers and suppliers are critical to the future success of your business so it's important that you explore how changes to your existing manufacturing strategy could be interpreted by both parties.
Outsourcing to an EMS provider can be a great opportunity to improve on the service you offer to customers in terms of quality and delivery. It also enables you to focus more on adding value to your customers and less time worrying about in-house inefficiencies or restrictions.
However, some end users may care deeply that your manufacturing is done in-house, or within a certain territority, particularly if you are producing a niche product. They may feel you are taking undue risk with the product by transferring your manufacturing to a third party. So to reassure your customers, you might want to involve them in part of the decision making process.
You may also have existing contractual agreements with your suppliers that will need to be addressed should you decide to outsource. Can they be cancelled or restructured or handed over 'as is' to the EMS provider? It's a good idea to check these things out before you make contact as reputable EMS providers will already have established supply chains and agreements in place of their own which you should be able to benefit from.
Summary
Outsourcing your electronics manufacturing is a big decision with long term implications. Get it right and your business has the potential to grow and out-innovate the competition. Having internal and external stakeholders buy into the value of outsourcing to an EMS provider though is vital for success. While we love speaking to prospective customers, in order for those conversations to be productive and meaningful, it's important that you have a clear strategy and the full support from across the business before you pick up the phone.