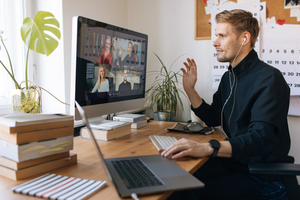 Communication lies at the heart of a successful partnership between an OEM (Original Electronics Manufacturer) and an EMS (Electronic Manufacturing Service) provider.
Both parties must exchange information on a regular basis. Your EMS partner will need to receive timely forecasts from you so they can optimise managing the material pipeline and assembly capacity. And in turn, they will need to keep you informed of production status, delivery updates and quality issues.
Naturally, this means you will be used to having regular meetings with your EMS partner. As well as meetings to discuss the things outlined above, there will be quarterly strategic reviews and meetings where you discuss new product introductions.
The shift to virtual meetings
Prior to the pandemic, it's likely that these meetings would take place in person, attended by key members of your team and the dedicated account manager from your EMS provider.
But with people working from home over the last year due to Covid-19, many of these meetings will have been held virtually via video call. This comes with advantages, most notably the time and costs saved by not having to travel to meetings. But it also comes with some disadvantages that need to be managed.
4 ways to ensure effective virtual meetings with your EMS provider
So, how can you ensure you make sure you get the most out of virtual meetings with your EMS provider?
1. Keep a limit on numbers
Switching from in-person to virtual meetings makes it easier for more people to join in. It may be that there are lots of members of your team who ordinarily wouldn't get a chance to be part of strategic reviews or new product introductions who would jump at the chance to get involved. And it may be useful to have more people in on the call who can provide an additional perspective. For example, in a new product introduction meeting it can be beneficial to have some members of the production team attend so they can pass over as much internal knowledge as possible.
But at times, it can be a case of too many cooks spoiling the broth. More people can sometimes mean more problems. You may end up having to pause too often to answer questions and give additional context for those who aren't used to being in the meetings, and that could interrupt the flow and make it less productive overall. It may be better to keep the meetings to just key members of your team, and if necessary, any important messages can be fed back to the wider team afterwards. So make sure you think carefully about who you invite to meetings and avoid sending out open invitations for the sake of it.
2. Set an agenda
Creating an agenda prior to the meeting will give you a clear overview of the topics to be discussed. Including timings to show how long you intend to spend talking about each topic will help ensure that you cover everything you need to.
3. Assign a chairperson
Assigning someone to chair the meeting, whether one of your team or the account manager at your EMS provider, will help ensure that the meeting remains on track and doesn't overrun. This person will be responsible for ensuring you stick to the agenda and moving the conversation on when needed.
4. Clarify key points and actions
It's easy to assume that everyone attending a video call hears the same thing. But dodgy internet connections and people being interrupted by someone at the front door means this isn't always the case. Not to mention that 'Zoom fatigue' and burn out from back to back video calls is having a huge impact on our ability to concentrate.
With all this in mind, it's now more important than ever for key parts from any meeting to be spelt out - even if everyone sits nodding and accepting their individual actions! Clarifying the key points from the meeting in writing with clear concise actions and accountability and then circulating it afterwards will ensure everyone is on the same page.
Maintaining a good relationship with your EMS partner relies on strong communication. So holding regular meetings to discuss key issues is key and will ensure you remain on track.
During the coronavirus pandemic, clarity and communication have become more important than ever. The partnerships where the OEM and EMS provider can talk openly about issues such as forecasting and supply chain challenges are likely to be the most successful. And just because it's not as easy to meet in person doesn't mean you can't still have clear lines of communication. The challenge is ensuring your virtual meetings are as effective as they have been previously in person. Hopefully, the tips outlined in this blog post will help to keep you on track.