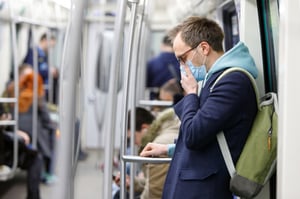 China plays a critical role in the electronics manufacturing industry, be it in the production of finished goods or in the supply of components and sub-assemblies.
Any unanticipated event brings with it the risk of causing chaos to the supply chain.
So as the coronavirus crisis grows in intensity, technology analysts are understandably focused on how the knock-on effects of this epidemic are impacting both demand and supply within the global electronics market.
What are the analysts predicting?
In a February 2020 update, technology research powerhouse Omdia shone a spotlight on the predicted effects of the virus on the ongoing rollout of 5G.
As it explained, China currently accounts for a substantial 27 percent market share in the world's smartphone market alone, which means the stakes for those players operating within the technology and telecommunications industries couldn't be higher.
Having previously predicted in its third-quarter update that the Chinese market would start to rebound in 2020, analysts are now forecasting that the coronavirus crisis could see a further contraction in unit shipments.
China's display fabs utilisation is also expected to shrink to 25 percent in February.
And component shortages are predicted to lead to a fall in both production and output - currently forecast to drop by 40 percent and 50 percent respectively.
The manufacture of display panels used in 5G smartphones is also anticipated to be significantly impacted by the coronavirus crisis, as suppliers grapple with the challenge of component shortages.
Managing labour shortages
The reduction in the availability of labour is another major consideration, with many Chinese manufacturers having no idea how many of their workers will be returning to work - and when that will be.
The annual Chinese New Year is already widely acknowledged as being a difficult period for electronics manufacturers worldwide.
Even in a normal year, Chinese manufacturing operations routinely come to a stand-still over the Lunar holiday, and it is not uncommon for factories to see just 80 to 85% of their employees returning to the workplace at the end of the festival season.
The coronavirus epidemic has only compounded the problem, bringing with it wide-ranging quarantine measures and restrictions on non-essential travel that are affecting the movement of millions throughout China.
In many cases the reopening of factories has been delayed by a week or more, with many still remaining closed and thousands of workers left unable to return to their workplaces.
Maintaining the supply of components
Even where production has resumed, the delay in the reopening of factories has already begun to take its toll on the supply chain.
A case in point is the manufacture of LCD module printed circuit boards (PCBs) and LCD polarisers, where inventories have been negatively impacted as a result of production bottlenecks and logistics issues.
So far, the impact on global semiconductor supply has been relatively unaffected, however there are still concerns about the longer-term implications for these components if the virus continues to spread.
The longer the COVID-19 crisis goes on, the higher the chance that electronics manufacturers will be forced to consider either slowing down production or temporarily halting their operations - with either option presenting a significant blow to global semiconductor supply.
Any slowing down in semiconductor manufacturing will inevitably have a knock-on effect, not just microchip suppliers but on anyone who is reliant on the purchase of large volumes of chips in order to manufacture their end products.
The supply chain is a crucial element within electronics manufacturing - and preparing for the unexpected is essential for any company that is in the business of building hardware or physical products.
Having contingency plans in place has never been more crucial. And managing the flow of components and materials is going to be more important than ever in helping to avoid supply chain disruption and ensure the ongoing production and delivery of high-quality electronics products.
Working with your EMS partner
JJS Manufacturing is continuing to closely monitor the coronavirus outbreak in order to mitigate against disruption to the supply chain.
As the situation worsens, impact on certain commodities is looking ever more likely - meaning there may well be delays, or in some cases a longer-term inability to deliver on the part of our Chinese material suppliers.
In the meantime, we remain in close contact with our freight forwarding partners to ensure that we are working to the very latest information and are able to react quickly to any changes.
If you are an existing customer of JJS then we recommend you provide your account manager with an updated forecast of your requirements for the next few months in order to mitigate any potential shortages or interruptions.
For further information about how your electronics manufacturing services (EMS) partner can help you avoid the pitfalls of supply chain disruption, please download our free eBook 'Supply Chain Excellence.'
And feel free to get in touch with a member of our team if you have any questions or concerns.