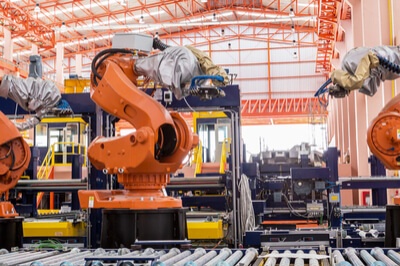 The biennial 'Drives & Controls' Exhibition, widely recognised as the UK's leading show for automation, power transmission and motor engineering, will be taking place at the Birmingham NEC 10-12 April 2018.
The event brings together key suppliers of state-of-the-art equipment including areas such as energy efficiency, machine safety, motion control, sensors, Test & Measurement and automation and is a unique opportunity for engineering professionals to get "hands-on" with the latest products, technologies and services.
This year's exhibition welcomes the launch of a live Robotic Demonstration Area, featuring the latest robot technology from across the industrial landscape.
And the highly respected free seminar and conference programme will be brought to a new level with the introduction of The Knowledge Hub, providing visitors with a unique learning experience and one of the most comprehensive guest speaker programmes of 2018.
The exhibition is co-located with five other industrial expos (The Smart Industry Expo, Fluid Power Systems, Air Tech, Plant & Asset Management, and Mach), making it the largest Manufacturing and Industrial Event in the UK in 2018.
If you're involved in manufacturing, industrial automation, refurbishment or maintenance then 'Drives & Controls' is the place to visit.
To streamline your planning, here's a checklist of all the essential info on getting there, who to see and finding your way around:
1) Location
Drives and Controls 2018 is located in the Birmingham NEC in Halls 9 and 10
2) Getting There
By Road: Birmingham is at the hub of the UK motorway network,enabling visitors to travel directly from the M6. M1, M40, and M42. If you're intending to drive, the SATNAV postcode to use is B40 1NT. The NEC is near junction 6 of the M42 motorway, adjacent to Birmingham Airport and Birmingham International Railway.
By Rail: The NEC and NEC Arena are served by Birmingham International station, connected by a covered bridge link. London is only 90 minutes away and trains also run direct to many regional towns and cities. Click here to find out about the special NEC business to business discount.
By Air: Birmingham International Airport is served by more than 20 international airlines and is conveniently situated just a few minutes from the NEC. Together they provide scheduled flights from 34 destinations within the UK, Europe and North America.
3) Parking
There is plenty of parking at the NEC, with 16,500 parking spaces available and daily charges ranging from £12 per day for standard, pre-paid and disabled parking up to £20 per day for Express Parking. A shuttle bus service from the car park runs throughout the day from 1hr prior to the exhibition start-time to one hour after closing time. If you're walking from the car park, a pedestrianised zone with finger post signage will guide you to the halls.
4) Opening Hours
Tuesday 10 April: 09.00 - 17.00
Wednesday 11 April: 9.00 - 17.00
Thursday 12 April: 9.00 - 16.00
5) Entry
Entry to the show is free of charge. You can save yourself time on the day by pre-registering online.
6) Exhibitors
There are more than 400 exhibitors taking part in this year's event so this floorplan could come in very handy in being able to plot your route. We'd recommend making a list of your must-see suppliers to ensure you don't miss anyone out. You may also want to contact some exhibitors in advance to pre-book time for a conversation.
If you'd like to chat with us about outsourcing opportunities, the JJS team will be located on Stand G85, just adjacent to the Organiser's Office.