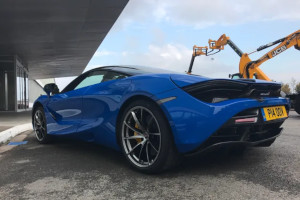 For most, the 25th September 2017 was a particularly horrible day, weatherwise. Torrential rain, standing water, fog, an accident involving a VW Golf and a Transit van - it's fair to say our journey up to Staffordshire wasn't the best. On arrival, things brightened up quickly though and our world was filled with colour - yellow to be precise - as we pulled into the JCB VIP Visitors Centre.
As we walked past an impressive display of construction equipment (and a somewhat out of place bright blue McLaren 720S) we entered the HUGE reception area complete with marble floor. After signing in, being handed our lanyards and wifi passwords, we made our way through to an arrivals area complete with tea, coffee and a selection of pastries - things were looking up!
So, why exactly had we made the two-hour trip up to the JCB VIP Visitors Centre? Well, we had been invited by the organisers, Barclays, to attend their first ever National Manufacturing Conference 2017 hosted by JCB. The speaker lineup looked impressive, we tick the 'manufacturer' box and it's always useful to understand what trends and challenges those across the industry predict and have had to overcome.
Ultimately, we were there to listen.
Kicking off the conference, Mike Rigby, Head of Manufacturing, Transport and Logistics for Barclays Corporate Bank, reminded us that the sector is currently strong and that Britain is now the eight largest industrial nation with an annual output worth $249bn. With 2.6 million people working within UK manufacturing and currently generating 44% of total UK exports, Mike reinforced the point that we should all be proud to work in the sector.
Throughout the day we were treated to a number of inspirational speakers and panel discussions. David Brown, CFO of JCB highlighted the need to continually invest and adapt to fast-changing market conditions. David also explained that whilst he recognised the JCB brand was strong in the marketplace, continuing to attract the right engineering talent (and then meet their evolving work/life expectations) remained a challenge.
After David had finished Professor Sam Turner from HVM Catapult, Greg Hewitt from Rock Oil and Chris Richards from the EEF joined center stage and took part in a live panel discussion around the changing landscape of UK manufacturing. Similar themes continued during the conversation i.e. the need to invest in new technology, the lack of skills and how companies might want to address these issues. Greg Hewitt commented on the importance of diversifying your product range to help mitigate risk when market conditions change. Chris Richards made the point that manufacturers were slow to adopt new technology solutions like augmented reality which he felt could really help in developing new skills and training staff.
Following the panel discussion, we were treated to a factory tour and lunch. Our tour guide, Jonathon, was extremely professional and knowledgeable, stating that if you cut him in half he would bleed yellow. The JCB family values that David Brown mentioned during his earlier presentation exist not only on fancy presentation slides but also in the hearts and minds of the staff that work there, and Jonathon was a good example of this.
As we walked around the vast site we witnessed pallets of sheet metal morph into fabricated parts in front of our eyes. After the shot blasting process and painting these items became more recognisable as something you might see on a digger, the bright yellow paintwork helping.
As we walked down the production lines vehicles started to appear almost by magic. It's really hard to explain, I blinked and the picture in front of me changed, and before I knew it the cab, wheels and front buckets had been fitted. What surprised me the most was the (visible) lack of stock. Jonathon explained that every vehicle manufactured was a) made to order and b) could be customised. Clearly, in order to achieve this the supply chain has to be incredibly robust to avoid production coming to a halt but with the sheer size and scale of the operation, I had expected to see much more stock than I actually did. Very impressive.
After an organic chicken curry, rice and creme brulee (all freshly prepared on site we were told by Jonathon) we settled back into the conference suite for the afternoon session.
First up to speak was Mike Flewitt, CEO of McLaren Automotive. Being a petrolhead myself it was fascinating to hear Mike's own personal story dating back to his time at Ford Motor company. He explained to the audience that on his last day at Ford they produced 8500 cars that day. On his first day at McLaren they built 8! Mike went on to say that one of the big challenges they faced early on related to the brand. Although McLaren had a strong brand dating back to racing teams and Formula 1, McLaren Automotive was effectively 'new', the competition was already strong and they needed to make the market aware of who they were and what they stood for very quickly. Considering the brand was only founded in 2010 and has been profitable for the last 4 years, I think you'll agree they have done a pretty good job.
Mike reiterated the importance of understanding your customers across multiple markets and just how different requirements can be for essentially the same product. He also explained the importance of having a clear technology roadmap spanning out several years and not being afraid to trial new technologies now, even though the market or infrastructure to support them might not be ready yet.
The final part of the day consisted of another panel discussion, this time involving Mark Franckel, CEO of Arlington Industries Group, Julie Moore, MD of Green Gourmet and Chiara Covone, Innovation Director for DS Smith. The theme - quick thinking leaders and seizing opportunities. Mark explained that his company had completed a series of acquisitions and as a result, were able to offer their automotive and aerospace customers a complete solution and much more value than before. Julie explained that her company had been set a number of challenges in the past by both the education sector and airlines, including being asked to consistently deliver a chicken breast that was 57g - no more, no less! The only real way Julie could guarantee this was to invest in new automated technology to overcome the issue which she has since done and secured the contract. Chiara explained the challenges the explosion of eCommerce presented from a packaging and sustainability perspective and how the company works continuously with their customers to ensure their solutions add value to, and reduce costs in, the supply cycle of which they form a part.
Mike Rigby ended the day by summarising that the sector was full of opportunities right now, essentially ours for the taking. But the pace of change can be overwhelming and challenges remain in attracting the right skills, Brexit uncertainty, making the right investment decisions and adapting to disruptive markets and technology.
Overall, the day was excellent. Well thought through and organised with a good mix of speakers covering topics that I'm sure are in the forefront of most UK manufacturing business leaders minds.
"Big difference between Ford and McLaren is the customer. You are supplying entertainment not transport"

Mike Flewitt