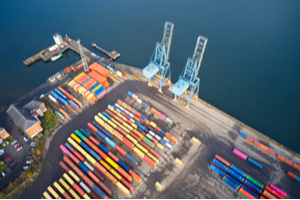 Higher import costs and surcharges are just some of the headaches OEMs are likely to face in the coming months. Yes, we have a rough ride ahead of us. But in the face of adversity, what it comes down to is operational resilience, and our ability to adapt and ride the wave.
The main message here? Focus on visibility and relationships. Do not wait to firm up future orders with your EMS providers. Here is the reality of upcoming supply chain challenges:
Peak Season Surcharges
Many carriers are now imposing peak season surcharges, congestion surcharges, equipment shortage surcharges and increasing the basic ocean freight rates just to secure a booking and space on a vessel. Some carriers are imposing freight surcharges of over $5000 per container out of China, despite no guarantee these containers will depart on time.
UK Port Delays
All UK main ports are currently experiencing severe congestion and Felixstowe has been forced to shut several times. We understand Felixstowe are currently trying to deal with 11,000 teus (twenty-foot equivalent units) of PPE which equates to circa 110,000 pallets and this is impacting empty container returns and new imports being accepted. As a result, shipping lines are currently being diverted to other ports which are then incurring increased haulage fees as a result.
Haulage Availability
Haulage availability is extremely scarce and taking up to 3 weeks to secure. As a result of this unprecedented demand, hauliers are starting to take advantage of the situation and demanding increased prices for their services. An overall reduction in the number of EU drivers due to COVID-19 quarantine restrictions plus the knock-on delays they are experiencing due to 'socially distanced' unloading are all playing a damaging part in the current crisis.
Brexit Stockpiling
At this stage, the true extent is unknown, however, it is highly likely that the cost of importing materials into the UK and exporting goods out of the UK will increase from January 1st 2021. As many businesses move away from a 'just in time' to a 'just in case' supply chain model, pre-Brexit stockpiling is not only stripping the supply chain and forcing prices up but it is also increasing the levels of import traffic resulting in delays we are now seeing at Felixstowe which are anticipated to continue at least into December and possibly through into the New Year.
Chinese New Year
If COVID-19 and Brexit were not already enough to contend with Chinese New Year is on the 12th February 2021. The official holiday falls between the 11th and 17th February 2021 but as we know from previous experience, many staff begin travelling home prior to this date and can return back to work (if indeed they do at all) several weeks after. As a result, orders need to be placed well in advance to ensure they are shipped and on the water prior to the beginning of these celebrations. Unfortunately we are already being told that there is very little space left for UK ocean bound cargo from Asia and as a result, more costly airfreight options may be the only way to secure deliveries in the time needed.
With COVID-19 and Brexit seemingly working against us, a good EMS provider will have been in the midst of preparations for some time. Relationships are key here, and if you can reach out to your EMS provider as soon as possible to ensure orders are confirmed ahead of time, you could save yourself pain later down the line. However, as we've mentioned, surcharges are going to be inevitable. Delays could well be inevitable too as stockpiling is crippling major UK ports. Preparation and expectation could help you manage worst case scenarios with your EMS providers.