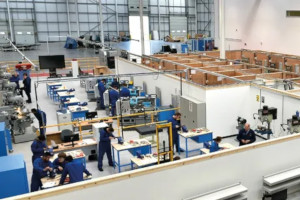 It's a battle that has gone on for decades and unfortunately, one I fear is seriously damaging the manufacturing sector.
When I was first offered my apprenticeship (many years ago) with an electronics manufacturing company I was over the moon; on the job training, a wage and the opportunity to study towards an HND. To me, it felt like a complete 'no-brainer' and I certainly didn't feel any less of a person because I wasn't packing up my bedroom possessions and heading off to university.
Nineteen years later my view of apprenticeships hasn't changed. They are the perfect choice for someone looking to start a career early, earn a wage and develop themselves professionally. University offers similar benefits and will be the perfect choice for others. There are pros and cons to each, the key word here is 'choice'. But I'm not convinced students are always being given a fair choice.
This report by Nick Peters neatly sums up why we desperately need to change our attitudes in manufacturing before it's too late.
Today's parents of 16-year-old children grew up in the time of industrial decline and the growth of office-based professions. The image of manufacturing they carry is of dark satanic mills rusting in the hollowed-out communities of industrial Britain: oily rags, smokestacks, a second-class citizenry who wield spanners for a living instead of becoming superstar accountants.

This severely misguided perception is shared by media, politicians and not surprisingly by classroom teachers who consequently have no incentive to champion careers in manufacturing. This is doubly important, given that the coalition government scrapped the Careers Advisory Service, making careers advice the job of schools.

https://www.themanufacturer.com/articles/uk-education-system-not-fit-for-business/