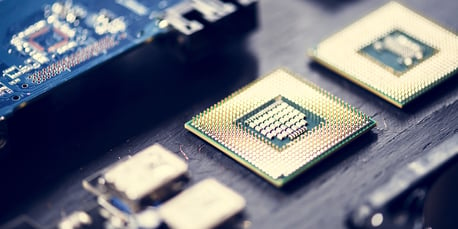 What's happening in the global supply chain as we reach the end of a volatile year in our industry?
Welcome to the latest quarterly roundup of key developments in the global electronics component market.
It should come as no surprise that global supply chain problems are continuing, and ever escalating. Not only is the world still working through COVID related difficulties but China has a shortage of Electricity, the UK has a shortage of HGV drivers and Hong Kong has been battered by Typhoons which forced stock market trading to be suspended.
Panic buying is continuing in the consumer market with iPhones, PlayStations and sought-after Christmas gifts all in short supply.
China's energy supply crisis is threatening production, with electricity being rationed and coal pricing increasing. Power outages and further restrictions of supply are envisaged over the coming winter period.
Capacity and lead-time issues
Vishay's CRCW series of resistors are on allocation
60% of Analog Device's catalogue of products are on 39 weeks lead-time, or more
Taiyo Yuden has put capacitors on allocation
TI lead-times are still lengthy with no improvements seen or forecast for the next quarter
Infineon has half of its product range on allocation
Lead-times are increasing for Semiconductor manufacturers including Diodes Inc, Vishay, ST Micro and Xilinx
Delta are reportedly seeing a sharp increase in lead-times
Siemen's lead-times are extending due to bottlenecks throughout the supply chain, recovery is not expected for 6 months
All wireless devices are increasing in lead-time due to increased demand
Epson timing devices are showing an upward trend in their lead-times
Panasonic batteries are in short supply
Xilinx Spart6 range is severely constrained
Manufacturer Mergers/Acquisitions
Nvidia's $54 billion bid for British chip designer ARM is expected to face an extended EU antitrust investigation after concessions offered last week failed to address competition concerns
PCB Technology
The global printed circuit board market is reportedly expected to grow by $4b – mainly due to businesses returning to pre-COVID output levels and also the increase in the EV and 5G market
Freight from the Far East is still challenging, with seaports congested and air freight costs increasing, and peak season surcharges being imposed
Chinese New Year will celebrate the year of the Tiger, with New Year falling on 1st February 2022. Please ensure you plan ahead as capacity is constrained and plants are working short weeks due to electricity rationing
Factories will be on shutdown for one week either side of Chinese New Year; expect closure between 24th January and 7th February in the Far East
Pricing Uncertainty
All market sectors are suffering from constrained supply, with most commodities and raw materials facing price hikes. Electrical product is being hit hard with price increases this quarter
ST Micro are applying 10%-20% increase from 1st November
Siemens product will be subject to new pricing from 1st November
Microchip price increased on average of 15% on 1st September
Brady product saw a 4.5% cost increase on average
Littelfuse applied a portfolio increase on 1st September
Wago implemented an 8% rise
Harting product averaged a 10%
Global Economy
Steel rebar has fluctuated a little, but this quarter is still trading at a similar price to July - $734 per tonne.
There's no doubt market conditions are challenging at the moment, but OEMs can still put their companies in a position to succeed by staying informed and planning ahead.