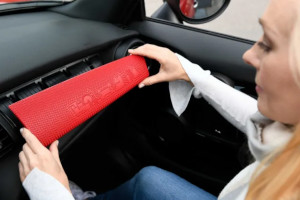 Want your name and the picture of a unicorn printed on the indicators and dashboard of your MINI? No problem, it's all part of a (new) service available to customers this year.
Whether it's a bumper sticker, air freshener or wide arch body kit there's no denying people love to customise their cars, vans, lorries and bikes with aftermarket parts. So it seems logical for manufacturers to start embracing 3D printing technology in order to offer their customers a new depth of personalisation.
In this article by Marc Hauschild, the product manager of MINI Yours Customised, Thomas Schmitz, explains that customers will soon be able to order 3D-printed side indicator inlays, dashboard trims, personalised sill plates and LED puddle lights. The indicator inlays and dashboard facias come in a range of colours and can be printed to display text, simple images and textured patterns, or one of a small selection of cityscapes.
Thankfully, MINI have also confirmed that not only will these parts be subjected to BMW's crash and durability tests like any other item of trim, they will also be removal/replaceable. Which is great news for the next owner......
From 2018 onwards new and existing MINI owners will be able to design their own exterior and interior trim components via a dedicated online configurator.

Thomas Schmitz, product manager of MINI Yours Customised, said: "Individualisation has always been a big topic with MINI. Now we want to take individualisation to the next level."

https://www.themanufacturer.com/articles/mini-to-increase-customer-personalisation-via-3d-printing