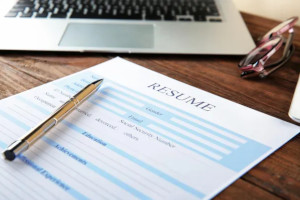 Since graduating and working for an electronics manufacturing company, I understand how important a 'good' CV really is in finding your perfect job. The Independent article below provides a useful insight into CV writing and highlights 8 annoying mistakes you'll want to avoid if you are about to put pen to paper.
When crafting your CV don't worry too much that the job you are applying for doesn't directly relate back to your degree. If you plan to move into a specialist area such as mechanical engineering then having a relevant degree may help, but for a more varied role i.e. a position within the commercial team, it's not likely to matter as much.
Good graduate schemes within manufacturing companies should offer you both in-house and external training along with the option of a postgraduate certification. So do not automatically assume you have to have a technical degree to end up working in a technical business. You might not, I didn't, and without checking you could end up automatically dismissing the perfect role for you!
It is also important to draw on all the skills you have learned through university. Don't downplay what you have achieved during your time studying and how relevant some of these skills are within the workplace.
For example, it's likely you will have built up good presentation skills throughout your studies. These are vital if you plan to take on a customer or supplier facing role, particularly if you are expected to report on monthly performance metrics.
It's likely you will have also spent a large amount of time perfecting your academic writing skills. Demonstrating you are able to write formally is a good indication that you can communicate to customers, suppliers and other key stakeholders at varying levels, again vital when preparing monthly reports.
Be sure to relate all of your experience back to the job description and tailor your CV to suit the job. Unfortunately, too many candidates still fire out 'generic' CVs and covering letters which are very easy to spot. By taking the time and effort topersonaliseboth of these documents, it shows the company you have a genuine interest in their business and how your skills can add value to them.
Finally, make sure that your personality shines through! Chances are you won't be the only one applying for the role and your experience is going to be limited. This shouldn't matter if the company can get a good 'feel' for who you are as a person when reading your CV. Interests, hobbies and most importantly any part-time roles, summer jobs, or volunteering experiences all help paint a more 'rounded' picture of you. Unfortunately, those that come across on paper as a blank canvas can end up very quickly on the 'no' pile...
Hopefully, my advice has helped in some way and by ensuring you don't make the same CV mistakes listed below, your chances of landing on the 'yes' pile should increase.
Good luck!
Since launching Résumé Writers' Ink in 2010, Tina Nicolai estimates that she's read over 40,000 résumés.

That's a lot of CVs. Over the years, Nicolai says that certain annoying mistakes tend to come up quite a lot.

Some of these errors might not seem like a huge deal. In a competitive job market, though, they might be the difference from snagging your dream job and having your CV thrown in the garbage.

https://www.independent.co.uk/news/business/woman-reviewed-over-40000-cvs-outlines-8-most-annoying-mistakes-a7614261.html