Picture the scene: you're about to leave the office on a chilly winter evening, so you plan ahead by logging into your smart home app and crank the heating up back home.
While you're at it, you remember that mushroom risotto you promised to make for dinner tonight. Checking your smart fridge's live camera feed, you notice you're out of wine and could do with a few extra mushrooms.
At the same time, a buzz on your wrist as your smartwatch informs you "1,000 more steps to go to reach your goal".
So you plug in your wireless headphones and head over to the supermarket.
We're perhaps only scratching the surface of what we're capable of day-to-day with the aid of smart technology, but it's no secret that our expectation of a more connected world - both as consumers and electronics manufacturers - is increasing at an unprecedented rate.
What does that mean for the PCB (printed circuit board) supplier?
With the PCB being one of the essential building blocks for electronics manufacturing, a demand for more complex, wearable, and mobile technology means more unique and intricate components, and of course, more PCBs.
A surge in market growth drivers
The global PCB market is set to reach $76.9 billion by 2024, and there is a growing pressure for PCB (Printed Circuit Board) suppliers to stay relevant, adaptable and sustainable.
As we know, the PCB should be at the heart of the EMS supply chain and it's one of the most critical components, but the role of the PCB supplier is ever-changing. To compete in such a prolific market, it's not enough to simply have a high-quality product; they need to deliver value to every aspect of the supply chain.
How does this impact the relationship between EMS companies and their PCB suppliers? We spoke with Ryan Pellow, General Manager at NCAB Group UK, about the state of the market, the pressures and challenges that come with that, and how this might impact companies in the global PCB industry.?
"During the past year, the PCB has been the only constant in a very challenging component market
But the feeling within the industry is that this is about to change."
Major growth drivers include the surge of wearable smart devices such as watches and high-quality headphones, the popularity of gaming consoles, smart appliances and products, plus the widespread adoption of 5G.
"As technology demands continue to increase it's important to select a PCB supplier that can not only support your demands now but can adapt to requirements in 5-10 years time."
Sustainable partners and long-term relationships
With technology developments still happening at an unprecedented rate, transparency, trust and sustainability are the major drivers. As PCB equates to around 0.5% - 2% of the overall assembled products value, pricing is no longer the major driver in a long- term relationship.
Ryan explains that as the services provided by EMS companies increase, so too does the pressure for PCB suppliers to stay relevant. This is dependent on a synergy between the two companies. When this is balanced, it can "deliver incredible results for customers."
"The most successful outcomes come when three-way discussions are had between the end customer, EMS company and the PCB supplier. "
NCAB highlight the importance of this 'Triple bottom Line approach' which ensures a supplier can be confident their business is sustainable moving forward.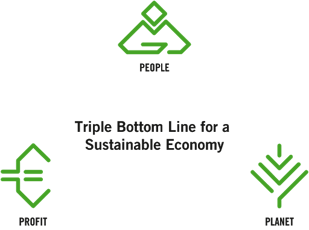 NCAB also emphasise the importance of a sustainable strategy: "Ensuring your suppliers are sustainable in the long term is for us the most important factor."
"Unless a supplier is conscious of its environment, there is always a risk they will be unsustainable in the future. Whether this is as a result of market, global or ethical changes. A focus on building long term relationships means time spent developing these relationships aren't wasted and it also means they are well placed to react to any future marketing changes."
New horizons for the next decade
According to NCAB, "with the roll-out of 5G globally, the demand for PCBs has increased significantly and the belief is that this will continue as other countries adopt the new technology."
This is putting more strain on the supply chain. New tech such as HDI (High density interconnect) must be adopted to support the surge in multipurpose, portable devices. Increased global demand will result in greater market share and a surge in overall industry size.
As we enter the new decade, we must also consider the impact of the Chinese new year - which is set to be one of the most challenging yet as a result of widespread 5G adoption, requiring a focus on the base stations that provide the signal.
As Ryan Pellow explains, "Eventually, 5G will replace 4G which will mean further infrastructure will be needed such as transmission networks, and core network hardware facilities, adding more strain on the supply chain."
The new decade looks set to be an exciting time for the PCB market. But while it poses opportunities and avenues for growth, it does present many challenges. A volatile environment will push PCB supplies to disrupt their strategies and adopt new technologies but a strong, long-term relationship between EMS providers and their PCB suppliers is one of the simplest ways to achieve continuous growth and success.